HERE ARE OUR SONGS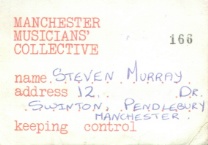 "I was always trying to get the band gigs and heard about the MMC meetings and that they were putting on gigs at the 'Band on the Wall' in Manchester City Centre so I decided to join in and get us some work.
Our first gig at BOTW for the Collective was in October 78 with Stand & Deliver and The Not Sensibles. I always remember the Not Sensibles set up with their backs to the audience and the singer wore a duffel coat!!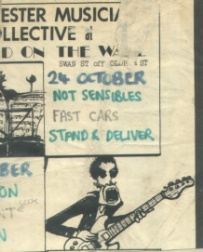 We played twice in November 1978 once with Mick Hucknell's Frantic Elevators and The Manchester Mekon and then with Departure and The I-Beats.

We played again in March 1979, this time with IQ Zero.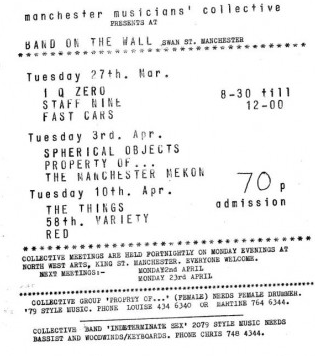 During the meetings it was disscussed about producing an album (A Manchester Collection), and I attended several meetings regarding that as we had been one of the 'chosen' bands to go on it. The main reason we agreed to taking part was Steve Solomar didn't want to tie our songs up with any contracts so they couldn't be used again if we got a 'real deal' unlike some of the other local labels. So we donated 2 tracks; Why? and What can I do, that we had recorded at Cargo Studios in Rochdale.
During my invovement with the collective I met Dick Witts who managed to get us on Granada TV's 'What's on' programme, as he was a Co - Presenter.
I have fond memories of those meetings as I was made to feel included, which was not always the case with the Manchester Music scene in those days!!"
Steven Murray, (Membership No. 166) Fast Cars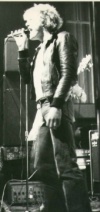 ---
THE COLLECTIVE
The Manchester Musicians Collective was formed in April 1977, inspired in part, by Dick Witts' involvement with musicians of the London Collective. However, from its conception, the Manchester collective took a very different musical direction.
The first membership included members of Dick's Normedia group; Louise Alderman and Chris Griffin; Trevor Wishart, who was composer in residence for Northwest Arts. With the arrival of Mark Smith of 'The Fall' and Frank Ewart from The 'Manchester Mekon', things changed forever.
The groups had arrived. Frank, because of his technical knowledge, immediately became a central figure and The Fall played their first gig at Northwest Arts basement, where the original meetings were held. It soon became apparent that another venue was needed and THE BAND ON THE WALL had a free night.
A pilot scheme was suggested to the owners Steve Morris and his partner. They agreed to a few trial Sunday nights too see what would happen. It was a brave move. (Steve played clarinet in trad jazz style and he found the music of the late 70's difficult, however, he was a keen Musicians' Union man and believed in encouraging young artists, whatever the musical genre.)
The first few gigs were very mixed: different performance artists as well as bands and individual musicians. Dick Witts, Louise Alderman, Chris Griffin and David Pimlott, formed an improvisational group called, 'The Toy Town Symphony Orchestra'. They played a variety of instruments and wore frog masks. Gradually, the Bands took over, though there was still sometimes an appearance by a collective orchestra of some kind.
It was very exciting time musically, the mix of musicians brought something to each "camp" giving everything an edge somehow previously lacking and the gigs proved to be very popular too.
As word spread more bands became members of the Collective; some for a short while, some for longer. A Certain Ratio, Fast Cars, The Not Sensibles, Slight Seconds, Spherical Objects, Passage, Warsaw/Joy Division, were all Collective members. All the bands were friends and there was a rota of whose turn it was to play a gig and who would headline. Everything was organized by the Collective: members, printing,publicity (fly posting!).
The press regularly reviewed the gigs and this made them popular with musicians looking for recognition but It was never the driving force behind any event.
People went to listen to the music share ideas and surprisingly (or not) to help each other. A year on, the idea of a Collective album was talked about. Steve Solomar already had his own record label Object Records and, as a collective member, seemed the obvious choice. It seemed to evolve naturally that it would be recorded on Object. He was given full artistic control to choose the line up for the album and to that end, attended many of the Band on the Wall gigs to see the bands performing live. The first collective album 'A Manchester Collection' was released in 1979. A further album Unzipping the Abstract was released in 1980.
Louise Alderman, 2008
---
INTERESTING FACTS
Anthony Tabak, the drummer from Property Of... was, briefly, a member of Warsaw (Joy Division) but left just before the demo recordings of An Ideal For Living.
Click HERE for a great Joy Division reference.
Both Joy Division and The Fall were briefly involved with the MMC.


Here is an extract from 'Joy Division to New Order' - The true story of Anthony H Wilson and Factory Records by Mick Middles, (page 83) "Mick Hucknell's Frantic Elevators could often be found, noisily employing either the stage or the front row, as could Burnley's hilarious Not Sensibles, the dull, hippyish Manchester Mekon, the Buzzcockian Fast Cars, Blackburn's answer to Devo, IQ Zero, and Joy Division."
John Bisset guitarist / vocals in "Grow-up" has gone on to form a career as a musician / artist
Another member band, Frantic Elevators, didn't appear on this album but featured Mick Hucknell on vocals.
Kevin Eden, (gtr/vcls) with Slight Seconds, wrote the official biography of Wire.
Mick Duffy from IQ Zero went on to be a Journalist at the Manchester Evening News, & several music papers.
MMC gigs were both regular and cheap and always had at least a couple of the bands on.
The album reached no.6 in the "Sounds" alternative album chart.
---
FAST CARS TRIVIA
Taken from the NME: "Fast Cars with Why? and What can I do, are less Buzzcocks fixated than the group name and song titles suggest; healthy new pop."
Kevin Cummins who took the photo used on the cover also did a shoot of us in Moss side in 1979.
The Mediators drummer Phil Rathbone joined "The Two Tone Pinks" when Pete Bates left to join Fast Cars.
Steve Brotherdale was a drummer with Warsaw / Joy Division before joining V2 and then Fast Cars.
Several members of Steve Murray's first band, The Sirens, went on to be members of The Fall (Marc Riley, Craig Scanlon, Steve Hanley).
Steve was member no. 166 in the collective - see his membership card at the top of this page !!!
Dick Witts organised our appearance on Granada TV's "What's on" programe co-hosted by Mike Riddoch & "Margox" (Margi Clarke).
---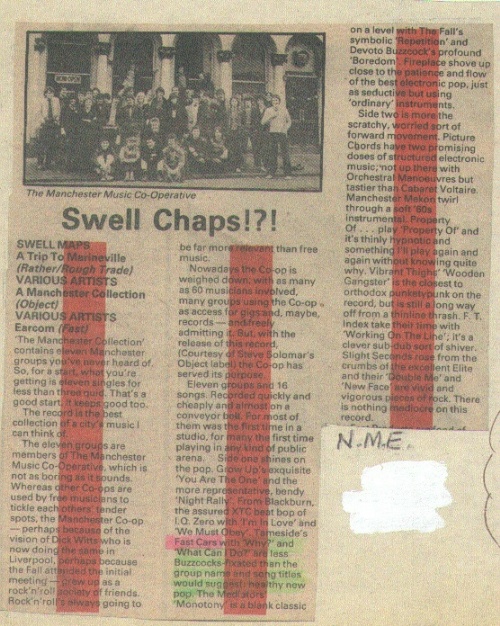 THE ALBUM
A MANCHESTER COLLECTION (OBJ 003) - VARIOUS ARTISTS:
Side 1
GROW-UP - You Are The One
GROW-UP - Night Rally
I.Q. ZERO - I'm In Love
I.Q. ZERO - I Must Obey
FAST CARS - Why
FAST CARS - What Can I Do ?
MEDIATERS - Monotony
FIREPLACE - Fireplace
FIREPLACE - Dutchman

Side 2
PICTURE CHORDS - First Floor Exercises
PICTURE CHORDS - Levitating Ladies
MANCHESTER MEKON - The Cake Shop Device
PROPERTY OF... - Property Of...
VIBRANT THIGH - Wooden Gangsters
F.T. INDEX - Working On The Line
SLIGHT SECONDS - Double Face
SLIGHT SECONDS - New Me