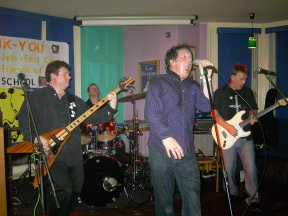 Salford Jets / Fast Cars - The Hope Pub, Salford 13th December 2003
Three of us set off from Blackpool down to Derby to watch Conflict, Icons and the Subhumans. Having watched Blackpool go down to a poor 1-0 home defeat against Luton could the day get any worse? Well ... the combination of torrential rain and heavy traffic meant we wouldn't make Derby in time to see most of the bands so we swerved to Manchester to watch some tame old school new wave / punk.
So we pulled in to Eccles for what was a sombre all ticket private party type of affair. I have a single or two by the Fast Cars which I believe go for silly money these days so I was interested to see them play after all these years.
They were what you might expect to be honest - straightforward pop punk. I remember being quite impressed by how the bassist pretty much held the band together. "The Kids Just Wanna Dance" was the highlight of the set (as you might expect).
Mike Sweeney's Salford Jets were well received by their home town pro Man Utd crowd. Considering Mike Sweeney is now actually 145 years old he has more energy than a Lancashire jack rabbit and his 100 mph banter between songs was funny.
Gina and the Ford Cortina track was great fun..... not quite Conflict but hey beggers can't be choosers.
Andy Higgins, Blackpool Rox fanzine, issue #7, 2004.
www.jsntgm.com